With February comes the Valentine's Day craze. Bakeries and florists are busier than ever, storefronts are adorned with pink and red hearts, and love in is the air. Whether you are enjoying a night in with your significant other or celebrating with the entire family this year, these recipes are perfect to share with the ones you love the most. We believe that love – and good food – is all you need.
Heart Shaped Pepperoni Pizza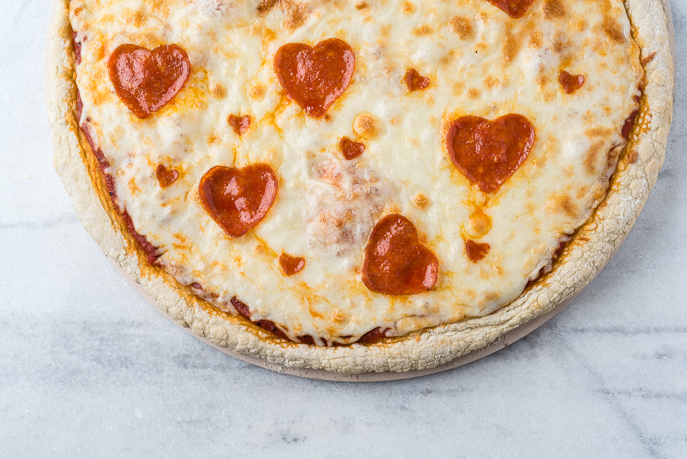 Most popular pizza chains will deliver a heart-shaped pizza right to your door on Valentine's Day. This year, why not skip the delivery and make pizza at home? It's a fun activity for couples enjoying a night in or an easy way to get kids in the kitchen if your entire family is celebrating. For our Heart Shaped Pepperoni Pizza use heart-shaped cookie cutters to create pepperoni hearts out of deli pepperoni and place them on the pizza, then bake.
Valentine's Day No-Bake Chocolate Truffles
If there's one thing everyone loves about Valentine's Day, it's chocolate. It's romantic, sweet and smooth with rich, creamy flavor guaranteed to woo anyone you admire. It looks like you spent all day on these No-Bake Chocolate Truffles, but we know it only took a few minutes and a little love to roll the balls of chocolate and dip them in your favorite toppings.
Eggs Benedict with Ham and Roasted Asparagus
Is there anything better than breakfast in bed? For a romantic breakfast, surprise your loved one by making our Eggs Benedict with Ham and Roasted Asparagus. Skip going out for an expensive meal this year and enjoy the morning together.
Peppered Rib-Eye Beef with Wasabi Cream Sauce
Want to spare your loved one the stress of going out to dinner on Valentine's Day? Avoid the crowds and cook for your significant other this year. This Peppered Rib-Eye Beef with Wasabi Cream Sauce is perfect for a romantic dinner at home. Splurge on a prime rib roast. The beef paired with the wasabi cream sauce makes for a memorable meal that will melt in your mouth. Pair it with simple sides and a full-bodied red wine for the perfect Valentine's Dinner.
White Chocolate Raspberry Cheesecake
Most of us associate Valentine's Day with sweets. Whether you make red velvet cupcakes or put a box of candy hearts in your kid's lunchbox, sweets are a must have on Valentine's Day. This White Chocolate Raspberry Cheesecake is luscious and smooth, tangy and tart, sweet and delightful. It's the perfect, decadent treat to finish your Valentine's Day menu.
Other recipes you might like:
https://blog.hamiltonbeach.com/sweets-for-your-sweetie-valentines-day-sugar-cookies/