In our Heritage Dish series, we feature Hamilton Beach employees and their favorite family recipes. This month, we highlight Martin Brady, Director of Consumer Marketing, and one of his family's favorite Irish pastry recipes, Granny Brady's Chiffon Tarts.
I would say we had quite traditional dinner meals, growing up in Ireland – meat, veg and potatoes. Not that potatoes aren't a veg, but potato was very often the starch…and I do like potatoes! My son Aidan isn't a fan of mashed potatoes, but my daughter Aislinn is. She often uses this to say she is more Irish than her brother.
While my mom Pauline is a great cook, I really love her baking – all from scratch! She still sends over about a dozen or two mini minced pies every Christmas Holiday. They are carefully packed in bubble wrap so they arrive intact…mostly. A Holiday tradition this time of year is Pancake Tuesday – Fat Tuesday here in the States. The pancakes we'd eat for dinner were lighter than those in the States, and we would drizzle them with lemon juice and top them with castor sugar. No maple syrup for us, but I hear my Mom now makes pancakes with Nutella on top for her millennial grandkids.
Another go-to staple for her grandkids is Granny's Brady's chocolate cake. It is the first thing my son thinks about whenever Granny Brady comes up in conversation. On one of our early trips to Ireland, he spied the chocolate cake on her kitchen countertop. He was offered a piece and has been forever smitten with the moist cake and chocolate-y iced filling. I haven't quite mastered it yet in my own kitchen. Perhaps it is the flour … or the castor sugar, which is not always easy to get in the US.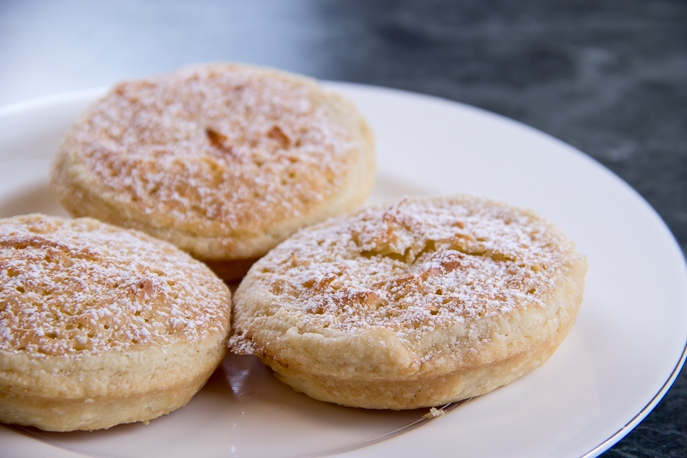 Tea Brack was another favorite – a slice of buttered tea brack is the perfect accompaniment to a pot of tea when someone drops in to Céile (an Irish term meaning to visit or a social occasion with music and dancing.) Barm Bracks were always popular around Halloween. It was tradition to cook them with a surprise baked-in (usually a coin wrapped in grease-proof paper). The lucky person got the slice with the coin.
Granny Brady's Chiffon Tarts are another favorite treat I remember my mom making. These are delicate and luxurious coconut-topped treats baked on a special pan. (Editor's note: We used a 12-cavity whoopie pie pan with great success.) The crust is flaky and tastes like shortbread, and there is a nice pop of chewy, fruity tartness from the apricot preserves. I wanted to share this recipe with you, as my mother has been kind enough to share it with me, and the Test Kitchen has been kind enough to recreate it here.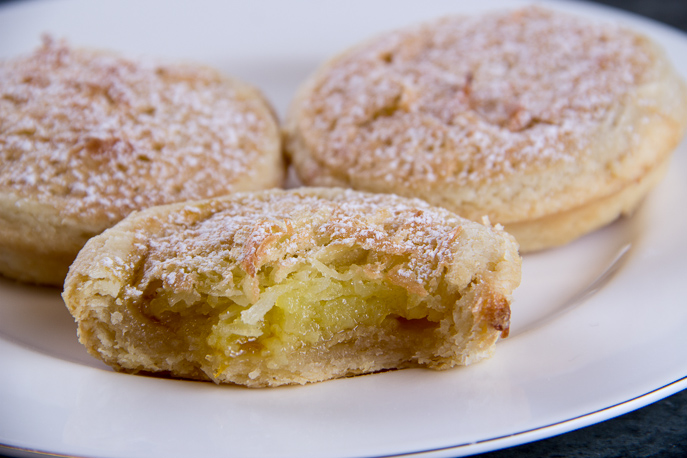 Granny Brady's Chiffon Tarts
Ingredients
1 ½ cups all-purpose flour
1 cup unsalted butter, cut in 1-inch pieces
6 Tablespoons very cold water
1 large egg
½ cup sugar
½ cup grated or flaked sweetened coconut, packed
¼ cup apricot preserves
Powdered sugar for garnish
Instructions
Add flour and chilled butter pieces to food processor bowl. Pulse several times, just until the butter is chopped. Slowly add cold water and pulse until the mixture is in pea-sized pieces. Do not over-process. Gather pieces to form dough. Small butter pieces should still be visible in dough.
Remove pastry dough from bowl and form into a 1-inch thick disk. Wrap in plastic wrap and refrigerate 30 minutes.
Preheat oven to 350°F.
Lightly sprinkle flour on pastry cloth or parchment paper and rolling pin. Unwrap pastry dough and roll to 1/8-inch thickness. Using a cookie cutter about 3-inches in diameter, cut 12 circles of pastry. Gather dough and reroll as needed.
Gently press each pastry circle into bottom and sides of tart or whoopie pie pan, being careful not to stretch dough. Add 1 teaspoon apricot preserves to center of each tart. Set aside.
Combine egg, sugar and coconut in medium bowl. Spoon an equal amount of mixture on top of the apricot preserves in tarts.
Bake 20 to 25 minutes or until the tops are golden brown. Cool 10 minutes and remove to wire cooling rack. Dust with powdered sugar before serving.
Notes
In our testing, we found higher quality preserves and jams gave a better flavor to the tarts. We recommend a whole-fruit preserve. If you don't have apricot preserves on hand, marmalade would make a great substitute.
SaveSave
SaveSave