One of the easiest dishes to make in a slow cooker is homemade baked beans and preparing them this way means you don't have to turn on your oven in July! They taste fantastic and you know exactly what ingredients are used. Today, we made baked beans in our slow cooker. We started with dried great northern beans and let them soak overnight. Dried beans are much less expensive than canned beans and you get to control the amount of salt. This recipe for baked beans can cook all day while you are at work, or overnight. (Because who doesn't love baked beans for breakfast…wait, what?) It's the perfect summer cookout side, but save the recipe for the winter, too. You'll want to pull it out just as often when you want comfort food on a cool night.
Slow Cooker Baked Beans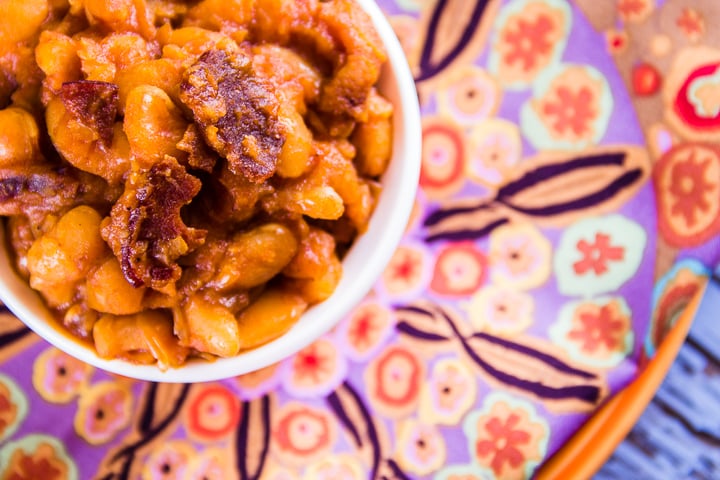 Ingredients
1 bag (16 oz.) dried Northern beans, rinsed
5 slices bacon
1 large sweet onion, chopped (about 2 cups)
1 clove garlic, minced
1 can (16 oz.) tomato sauce
1 can (12 oz.) cola
1/2 cup packed light brown sugar ​
1 Tablespoon spicy mustard
1 teaspoon salt
1/2 teaspoon dried crushed red pepper
1/2 teaspoon black pepper
Instructions
Add beans and 6 cups cold water to slow cooker crock. Cover and soak overnight.
Drain beans and place back in crock.
In large frying pan, cook bacon over medium heat until crisp. Remove bacon; drain and chop.
Add onion and garlic to frying pan. Cook 5 minutes over medium heat, stirring occasionally until onion is tender.
Stir onions, bacon and remaining ingredients into beans in crock. Stir until well blended.
Cover and cook for 4 hours on HIGH or 8 hours on LOW until beans are cooked and sauce has thickened.
Notes
We love to make these baked beans in our Stay or Go® 5 Quart Programmable Slow Cooker (33957) because it has programmable settings and a convenient clip-locked lid that makes potlucks a snap. These beans are sweet and salty, with a touch of spice – perfect for a summer cookout or a comforting winter meal.
More From The Hamilton Beach Test Kitchen:
https://blog.hamiltonbeach.com/youve-been-making-bacon-wrong-your-entire-life/
https://blog.hamiltonbeach.com/memorial-day-grilled-marinated-flank-steak/
https://blog.hamiltonbeach.com/slow-cooker-whole-roasted-chicken/