William McCormack, affectionately known by regulars as "Mac," has been a bartender since he was 18 and has owned bars since he was 24. He is the owner of McCormack's Whisky Grill in Richmond, Virginia's "Fan" district, which he started because he was "bored and curious." At the time, he was putting in a lot of work at his other restaurant, McCormack's Irish Pub, known for its rowdy but loyal punk rock following. He was no longer enamored with his day-to-day work, and when he turned 30, he became curious about spirits and their unique qualities. He dove right into every aspect of bar education, reigniting his fire for the industry, and started serving premium spirits for a small, but interested, segment of his clientele. He began to understand there was a connoisseur market out there, and wanted to open a restaurant just for them. "The Whisky," in its repurposed-wood and library-wall-of-spirits glory, was born.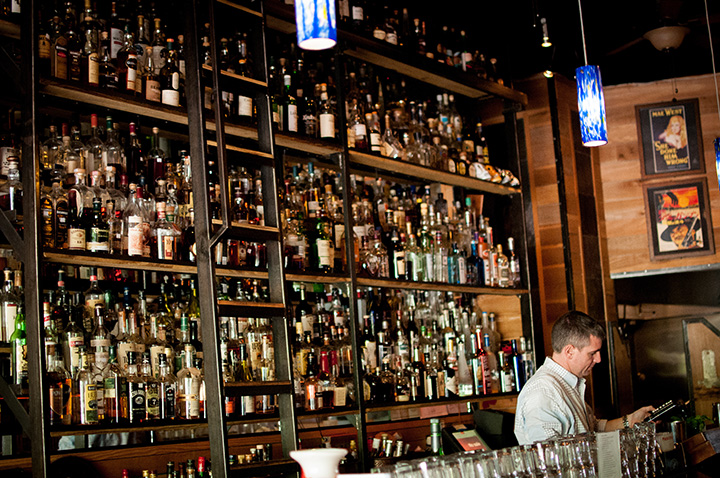 The Whisky has no phones, no TVs and no website. It's not an oversight. For its first few years, the Whisky Grill didn't even take credit cards. "There's a lot of people that don't like me, but they aren't my ideal customer, so I don't care. Sometimes I do controversial things; I'm kind of loud mouth. But the right people really love it, and we have a very loyal following now," Mac explains, still channeling his devil-may-care attitude. But don't let his punk cred fool you. Mac has three college degrees ("I was just curious about things," he explains.) and got into medical school. "Being a doctor was my a backup plan in case owning a bar didn't work out."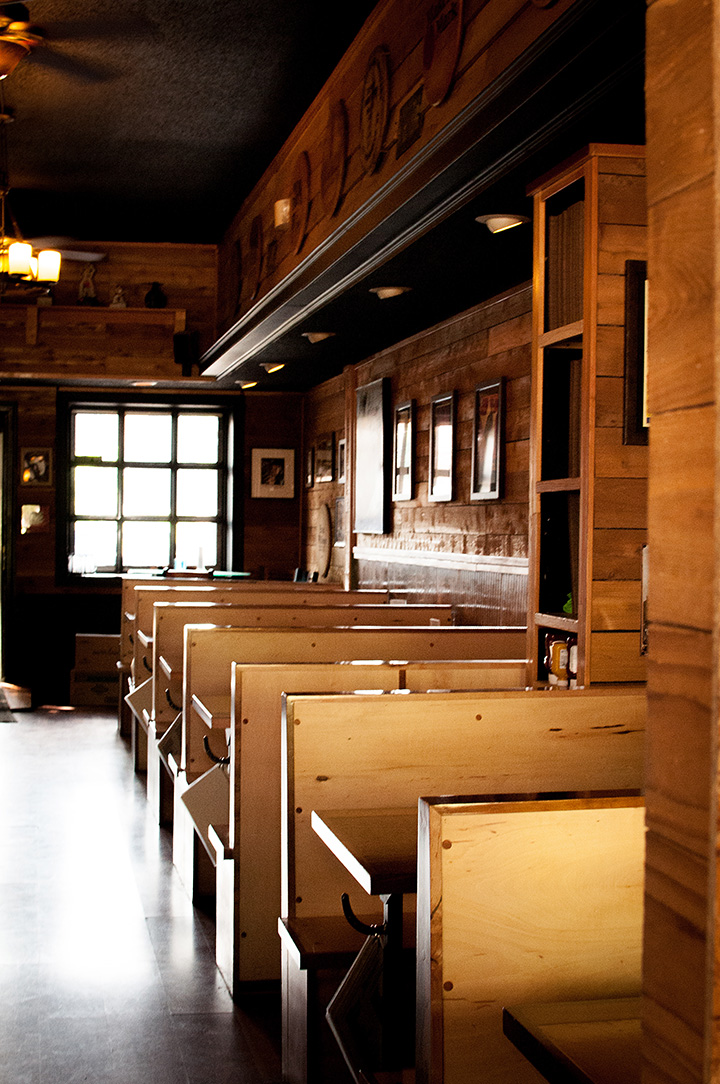 His thirst for knowledge paid off. The Whisky is known for being one of the most discerning places in town. "We often pick what our customers drink. We ask them what kind of spirit they want, how they want it served, and their price range. I never expected people would look to us for recommendations as much as they do, but it's fun and they trust us," Mac explains.
Mac guides us through the various types of American whiskies sitting on the huge library shelving behind him, such as moonshine, bourbon, malts and blended varieties; then through Scotland, Wales, Japan and Ireland. They all have different characteristics. Mac tells us bourbon is more popular in the United States, and it's growing in popularity in Japan, but most whiskies of the world emulate smokier Scotch whiskies.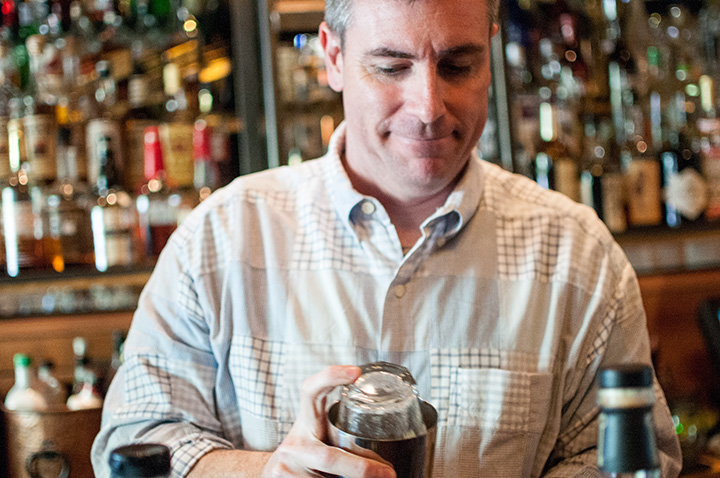 Since the Kentucky Derby is this weekend, we ask him for a recommendation to use in the South's most prized cocktail, the mint julep. Bourbons tend to be on the sweeter side of the whisky lexicon, so they work well in a julep. Lexington or Larceny brands are appropriately sweet with a fruity smell. But if you don't have these on hand, use whatever you like. "Who am I to tell you what you like?" Mac says. "There are some guys who wear salmon colored pants with blue whales all over them. It's not my style, but there are people who love those things. It's all personal taste."
Good bourbon has a lot of nuances that can get lost in a cocktail, so he suggests when making a mixed drink you sub a lower-priced bottle. He'll even downsell a customer at The Whisky if they order something he feels will get lost in the drink. He explains there are plenty of affordable whiskies out there as good as their expensive counterparts. "Don't be afraid to try something new when shopping," he says. "If it's $15 and you've never had it, the worst scenario is you don't like it straight and you'll like it mixed with ginger ale or used in cooking."
Cooking with alcohol is one of the best ways to use it. Wines,
bourbons and beers add extra dimension and depth to food.
Cooking with alcohol is one of the best ways to use it. "We use bourbon in over ten dishes here at the restaurant. Wines, bourbons and beers add extra dimension and depth to food. It creates an amazing richness as the alcohol cooks off." Home cooks should be careful using bourbon and whiskey in their food because it can be flammable. Use it sparingly and keep an eye on what you're doing. The acidity in whisky also works great in marinades for because it helps break down the muscle fibers in tough cuts of meat. Mac suggests using sage, basil, dill, lemons, garlic, salt and pepper, and a cup each of bourbon, olive oil and apple cider vinegar. He does this with fish, mushrooms and meats.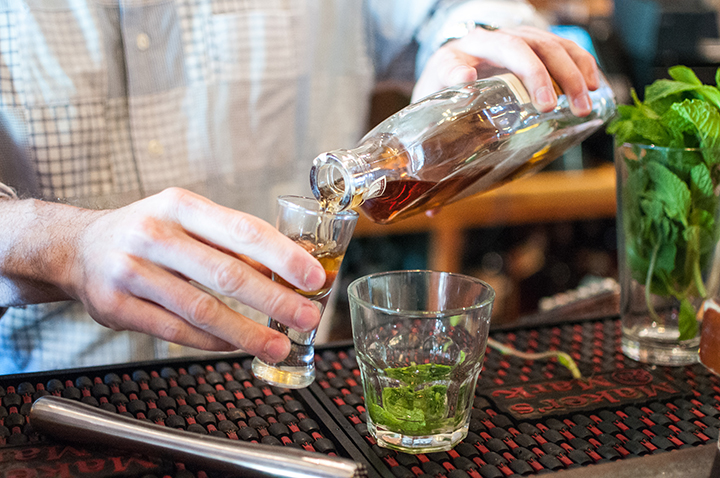 We steer back to the mint julep. Contrary to what many think, it's not supposed to be really sweet, so Mac only uses about half a teaspoon of sugar or a teaspoon of simple syrup. He grabs 6-7 mint leaves, likely grown in the garden behind the restaurant, and muddles it with the simple syrup. He adds a full measure (2 oz.) of bourbon and muddles again, then adds a few ice cubes and shakes it well in a shaker to bruise the mint even more and combine it with the whiskey. Some recipes call for soda, but he reminds us the original recipe for mint juleps didn't use it, so he doesn't either. (Despite his rebellious nature, he has a charming appreciation for tradition.) He pours the julep into a glass, garnishes with a mint leaf, and serves us. The room smells like mint, sugar and spice, and everyone agrees it's the perfect amount of sugar and soda isn't necessary at all.
He then makes us a non-traditional julep ("I love doing things non-traditionally," he says, not recognizing his contradiction.) with sliced fresh ginger, 6-7 mint leaves and a splash of simple syrup. The fresh ginger adds a nice spicy zip to the drink. We can see why this is Mac's favorite way to enjoy a mint julep. It's delicious, and ginger is really inexpensive, so this is a fun summer drink to enjoy on the cheap.
Blueberries and raspberries highlight the final mint julep he makes. He adds a little more sugar than last time to carry the fruity notes. This drink was born as a custom creation for a friend's wedding, and it's been popular in their circle ever since. It gets rave reviews and everyone thinks of porch cocktails on a spring weekend. It's a beautiful julep – full of bright colors from the berries and mint – so it makes sense it was used for a wedding.
You can try the mint julep with blackberries, oranges, or peaches and cream. You can also swap out the mint for basil or sage. While adamant Southerners might want to stick to their classic mint juleps (and they are delicious), Mac suggests thinking outside the box and trying something different. If you're hosting a Kentucky Derby party, suggest everyone dress up and wear big hats. Serve the mint juleps with a cheese assortment, sausages, smoked fish (which he points out is not southern, but from his New Jersey upbringing) and some crackers. Cheap, fun and perfect for a Kentucky-style spring weekend.
McCormack's Whisky Grill | 204 N Robinson St Richmond, VA 23220
2nd location: McCormack's Big Whisky Grill | Regency Square Mall, Eastridge Rd, Tuckahoe, VA 23229