Tzatziki is a Mediterranean yogurt sauce you can enjoy atop grilled meat or with pita and fresh veggies for dipping anytime of year. But it's a great summertime sauce recipe to have in your back pocket. It's light, refreshing and has an almost magical cooling power thanks to the hydrating cucumber and mint in the recipe.
This simple, herb-filled tzatziki sauce is beyond easy to make. You can whip it up in a matter of seconds in your Hamilton Beach® blender and have a party dip ready in no time. So skip the store-bought stuff and plug in your blender.
Add dill, mint, a clove of garlic, and half of a small onion to your blender jar. Cover and pulse until the garlic and onion are minced. Then add plain greek yogurt, lemon juice, 1 small cucumber (peeled, seeded, and quartered), salt, and white pepper. Pulse the ingredients until you reach the desired consistency. Want a thicker sauce? Add a little more greek yogurt. Prefer a thinner tzatziki? Add a little extra lemon juice and cucumber.
Use this tzatziki to top a Mediterranean chicken quinoa bowl or a juicy greek burger hot off the grill this summer. Or simply serve it alongside your favorite Greek olives, sliced cucumber, and fresh pita bread or naan for a no-hassle summertime appetizer to serve a cookouts or pool parties. I think everyone will agree, this versatile sauce is good on just about anything.

How to Make Homemade Tzatziki in your Blender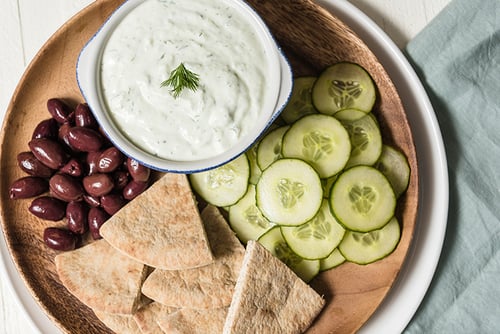 Ingredients
6 sprigs fresh dill, tops only
3 mint leaves
1 clove garlic
1/2 small onion, halved
2 cups Greek plain yogurt
1 tablespoon lemon juice
1 small cucumber, peeled, seeded and quartered
¼ teaspoon salt
White pepper to taste
Instructions
In a blender jar, add dill, mint, garlic and onion. Cover and PULSE until garlic and onion are minced.
Add remaining ingredients. Cover and PULSE until desired consistency.
Cover and refrigerate until ready to serve.
Other recipes to try:
https://blog.hamiltonbeach.com/center-stage-whipped-ricotta-with-lemon-and-olive-oil-from-food-n-focus/
https://blog.hamiltonbeach.com/homemade-hummus-with-fresh-pesto/
SaveSave
SaveSave