Let's face it, you're not going to be able to make french fries that look and taste exactly the same as the fast food chains. If you want to recreate a perfect skinny yellow fry at home, your best bet is to buy a bag of frozen pre-cut fries and dump them into the fryer or bake them on a pan in a toaster oven. But for the real do-it-yourselfer, this homemade french fry method has definite advantages.
If you're new to the world of home frying, the first thing you need to do is buy the right kind of potatoes. Russet potatoes are perfect for frying because of their high starch content. And if you want a crispy french fry, the more starch the better. Russet potatoes are a large oval shape, giving you those long, sturdy fries that hold up under the weight of a ketchup glob.
You don't have to peel the potatoes, but be sure to give them a good wash. Leaving the skin on gives your fries that rustic look and a homestyle flavor. Personally, I like to give them a quick, rough peel, removing most of the skin but leaving bits here and there.
If you have a french fry cutter or a french fry blade in your food processor, by all means use it. Otherwise, you'll have to cut the potatoes by hand. Either way, make sure the fries are all of uniform size and shape so they cook equally.
Next, you'll want to rinse and soak the cut potatoes in cold water to remove the excess starch. If you're in a hurry, a quick rinse will do, but the fries will benefit from a long bath anywhere from 20 minutes to 2 hours. (You could also leave the soaking fries in the fridge overnight.)
While the fries are drying on paper towels (and you'll want to make sure they're completely dry), heat the oil in your deep fryer to 300˚F. We recommend using peanut oil for its high smoke point, but vegetable oil works fine, too. Fill the fryer baskets about 1/3 full of the potatoes and fry for about 5-6 minutes. They should just start turning a light brown before you remove them from the oil. Let them drain and cool completely on paper towels.
At this point, you'll notice the fries are not done, but the insides have cooked. They're just a little limp and missing that crispy crunch. So while they're cooling down to room temperature, turn the oil up to at least 375˚ F. Return the potatoes to the basket and fry again or an additional few minutes until they reach a perfect golden brown.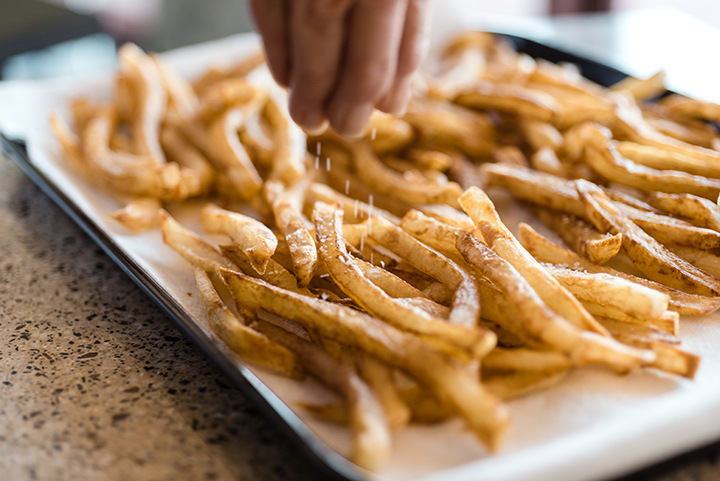 Let the fries drain and cool a little bit. Sprinkle with salt or your favorite seasonings. These fries will be crispy on the outside and perfectly light and airy on the inside – the perfect homemade french fry. Everyone will agree, homemade french fries are definitely worth the time and effort.
Perfect French Fries
Ingredients
Peanut oil for frying
4 large russet potatoes
Salt
Instructions
Choose an oil for frying with a high smoke point such as peanut oil. Fill deep fryer tank to maximum line. Do not fill above maximum line because oil bubbles as fries cook.
Choose a good potato for frying. Russet potatoes are recommended due to their high starch content. They hold their shape and make a crispy fry. The oval shape of the russet is good for making long french or steak fries.
Cut the potatoes in 1/4 by 1/4-inch thick sticks. Potatoes can be peeled or cut with skin on.
Heat oil in deep fryer to 300°F for first frying. The first fry cooks the potatoes and the second fry will crisp the outside.
Rinse the cut potatoes in cold water to remove starch. Cover with fresh cold water and refrigerate up to 2 days. Rinse, drain and pat potatoes with paper towels.
Fill fryer basket about 1/3 full of cut potatoes. Do not crowd the basket so potatoes can move freely in the oil.
Fry for 6 minutes or until fries are limp and very light brown. Drain basket and place fries on paper towels to absorb excess oil. Let rest 10 minutes.
Increase temperature of fryer and heat oil to 375°F.
Return fries to basket and fry for 2 to 3 minutes or until crispy and dark golden brown. Drain basket and place fries on paper towels to absorb excess oil. Sprinkle with salt. Fries will be crispy on the outside and creamy on the inside.
More ideas from our Test Kitchen
https://blog.hamiltonbeach.com/sweet-potatoes-baked-vs-mashed/
https://blog.hamiltonbeach.com/classic-potato-salad-with-variations/