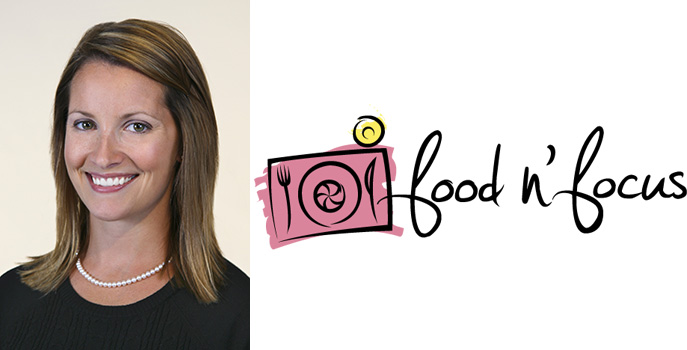 April Aceto is the author of Food n' Focus, a blog devoted to bringing a variety of cuisines together in one photogenic place. She works in advertising sales by day and behind her camera at night. Her passions for food and photography come from her extensive travel around the country and the world, exploring new cuisine and landscapes. April can be found on Twitter, Facebook, Pinterest and Flickr.
For as long as I can remember my mom has always been the type to put the needs of others before her own. She always is willing to lend an ear or hand when someone is in need and goes out of her way to make someone's day a little extra special. I like to think this is a quality I received from my mom.
I think this character trait is what makes my mom really great at hosting and entertaining guests. When I was a child my mom would always throw the best themed birthday parties, paying attention to each and every detail all the way down to the smallest of details. I also like to think this is a trait she passed along to me.
1. Espresso drinks scream "party" for hot or cold drinks, cocktails and more. The Hamilton Beach Espresso Maker ($90, hamiltonbeach.com) is perfect for entertaining. 2. My mom always taught me a sweet smelling home sets the stage for the perfect party, so she'd love this Capri Blue Jar Candle in Volcano ($28, anthropologie.com). 3. My mom would love this Blanc Cake Stand ($30, surlatable.com), because every party needs dessert. 4. We're from Wisconsin, so cheese served on a Slate Cheese Board ($20, 12" x 12", crateandbarrel.com) is a requirement at any social gathering. 5. These Apilco Octogonal Porcelain Serving Platters ($60-70, williams-sonoma.com) are perfect for serving appetizers, entrees or desserts. 6. My mom could throw great summer parties on the patio with this book of 101 Sangrias & Pitcher Drinks ($17, worldmarket.com). 7. These Kate Spade Larabee Dot Balloons Wine Glasses in Clear ($50, set of four, katespade.com) would be perfect for cocktail parties. 8. Every hostess needs an apron as cute as this Botanist Knoll Apron in Multi ($28, anthropologie.com).
With Mother's Day coming up I have been thinking about what the perfect gift would be for the mom that loves to entertain and host, must like my own mom does. Browsing the internet, I came up with a variety of pretty little gifts perfect for hosting any kind of party or event. On the top of the list is the Hamilton Beach Espresso Maker. Whether you're hosting a brunch or serving cocktails at a party, this is the ideal gift for the entertaining mom. More on that later!
There are a few key items I think every host should have: a fancy set of wine glasses, beautiful serving platters and a pretty little kitchen apron. The apron should be something that puts you in the mood to cook and also looks cute even if you're still wearing it when your guests arrive! Hosting to me is such an art. It's not just about what you're serving, it's about how you're serving it and your guests will notice if you put in the extra effort.
These Espresso Juleps were inspired by the Kentucky Derby this past weekend but I thought they would be nice to serve at a brunch or as an after-dinner cocktail if you wanted to include a coffee liqueur or vodka. The light flavors of mint and basil in the simple syrup make them the perfect summer sipper. By using the Hamilton Beach Espresso Maker, it was really easy to put together two drinks. Since you are serving these drinks chilled, you can easily make enough espresso ahead of a large group party and chill it in a pitcher in the refrigerator.
If you have a mom that loves to entertain much like my own does, you should consider some of the fun items included on my gift guide. And of course, if you get her the Espresso Maker she can try out these drinks for herself.
Espresso Juleps
Ingredients
4 shots of espresso, cooled
1 cup whole milk, divided
1 cup granulated sugar
½ cup water
¼ cup torn fresh basil leaves
¼ cup torn fresh mint leaves
1 ounce espresso liqueur or vodka (optional)
Ice cubes
Mint and whipped cream to garnish
Instructions
Prepare the simple syrup by heating the sugar, water, mint and basil in a medium saucepan over medium-low heat. Stir constantly until the sugar melts. Cool and strain the mint and basil from the sugar syrup and refrigerate until ready to use.
Divide the espresso and milk evenly between two glasses. Stir in 2 tablespoons of simple syrup into each glass. Add in ice cube to fill the glasses and garnish with mint and whipped creaming if desired.