Buffalo chicken sliders are the perfect food for watching football (and by football, we mean World Cup soccer) in front of the big screen, but don't relegate these delicious sandwiches to just game day. They're perfect for potlucks, cookouts and weekday lunches. We love how the spiciness of the Buffalo-style chicken is cooled off by the blue cheese slaw, and we think you'll love them, too.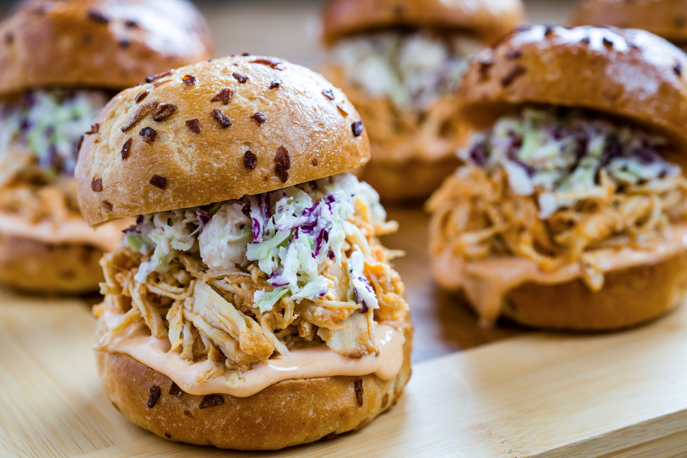 Best of all, these sliders come together easily after you make the chicken in the slow cooker and the slaw in the food processor. The chicken is a set-and-forget slow cooker recipe, perfect for summer days that call for fun in the sun rather than hours inside at the hot stove. It keeps well in the fridge, so plan on enjoying leftovers for lunch tomorrow.
Buffalo Chicken Sliders with Blue Cheese Slaw
Ingredients
3/4 cup hot sauce
3 tablespoons butter, sliced
1 teaspoon salt
1/2 teaspoon pepper
3 pounds boneless, skinless chicken breasts
Slider buns, split
Blue cheese coleslaw
1/2 cup mayonnaise
4 teaspoons hot sauce
Instructions
Combine 3/4 cup hot sauce, butter, salt and pepper in slow cooker crock.
Cover and cook on HIGH for 10 minutes or until butter is melted; stir until blended.
Add chicken breasts, turning to coat with hot sauce mixture.
Cover and cook on HIGH for 1 1/2 to 2 hours or LOW for 3 to 4 hours or until chicken is fork tender.
Remove chicken from crock; reserve 1 1/2 cups liquid. Shred chicken and return to crock with reserved liquid.
Combine mayonnaise and hot sauce. Spread mayonnaise mixture on bottom of buns. Top with chicken and coleslaw to assemble.
If your Buffalo chicken recipe calls for 4 hours on low, but you'll be out of the house for 8 hours, the IntelliTime™ 6 Quart Slow Cooker will adjust accordingly. This way, your food will be perfectly cooked when you want to eat rather than when the recipe says.
Blue Cheese Coleslaw
Ingredients
3/4 cup mayonnaise
2 tablespoons cider vinegar
1 tablespoon sugar
1 teaspoon salt
1/2 teaspoon celery seeds
1/4 teaspoon pepper
1 small head green or red cabbage, shredded (about 5 cups)
1 container (8 ounces) crumbled blue cheese
Instructions
Combine mayonnaise, vinegar, sugar, salt, celery seeds and pepper in a large bowl.
Add cabbage and blue cheese, tossing until cabbage is coated.
Cover and refrigerate several hours to allow flavors to combine.
Hamilton Beach® Food Processors rely on robust motors to chop, slice, shred, mix and puree just about anything you put in the bowl. Fast and easy to use, these versatile food processors incorporate smart ideas—especially this Big Mouth® Duo 14 Cup Food Processor with Second Bowl model, with its extra-large feed tube for slicing whole fruits and vegetables.