Yesterday, we shared our favorite Halloween cupcake recipes. As the season of sweets approaches, we thought we'd offer some tips to help you frost your cupcakes like a pro.
The quickest and easiest way to frost a cupcake is with a decorating bag fitted with a large decorating tip. If you're frosting a lot of cupcakes, it's worth the investment in the decorating bags, decorating tips and the 2-piece coupler that hold the tips in place. (Tip: In a pinch, you can use a resealable plastic zipper bag with one corner snipped off.) Make sure your cupcakes are completely cooled before you begin so your decorative icing doesn't melt.
Start with your icing on the outside of the cupcake, not worrying to cover the edge. Using steady pressure on the piping bag, work around the outside of the cupcake.
When you reach the beginning of your swirl, create a slight overlap and continue in a circular motion towards the center.
Continue to slightly overlap with each circle until the entire cupcake is covered. Release pressure and pull the bag away from the cupcake to create a peak on the top.
Alternatively, you can frost with a small metal spatula or knife. Cover the top of the cupcake with a thin layer of frosting to seal the crumbs, then use the spatula to swirl on the additional frosting. You can then decorate your cupcake with sprinkles or other edible decorations.
Using an icing bag and decorating tip isn't difficult. The results are beautiful and the cost for these materials is low. Follow our tips to make it easy as…cake!
How to fill an icing bag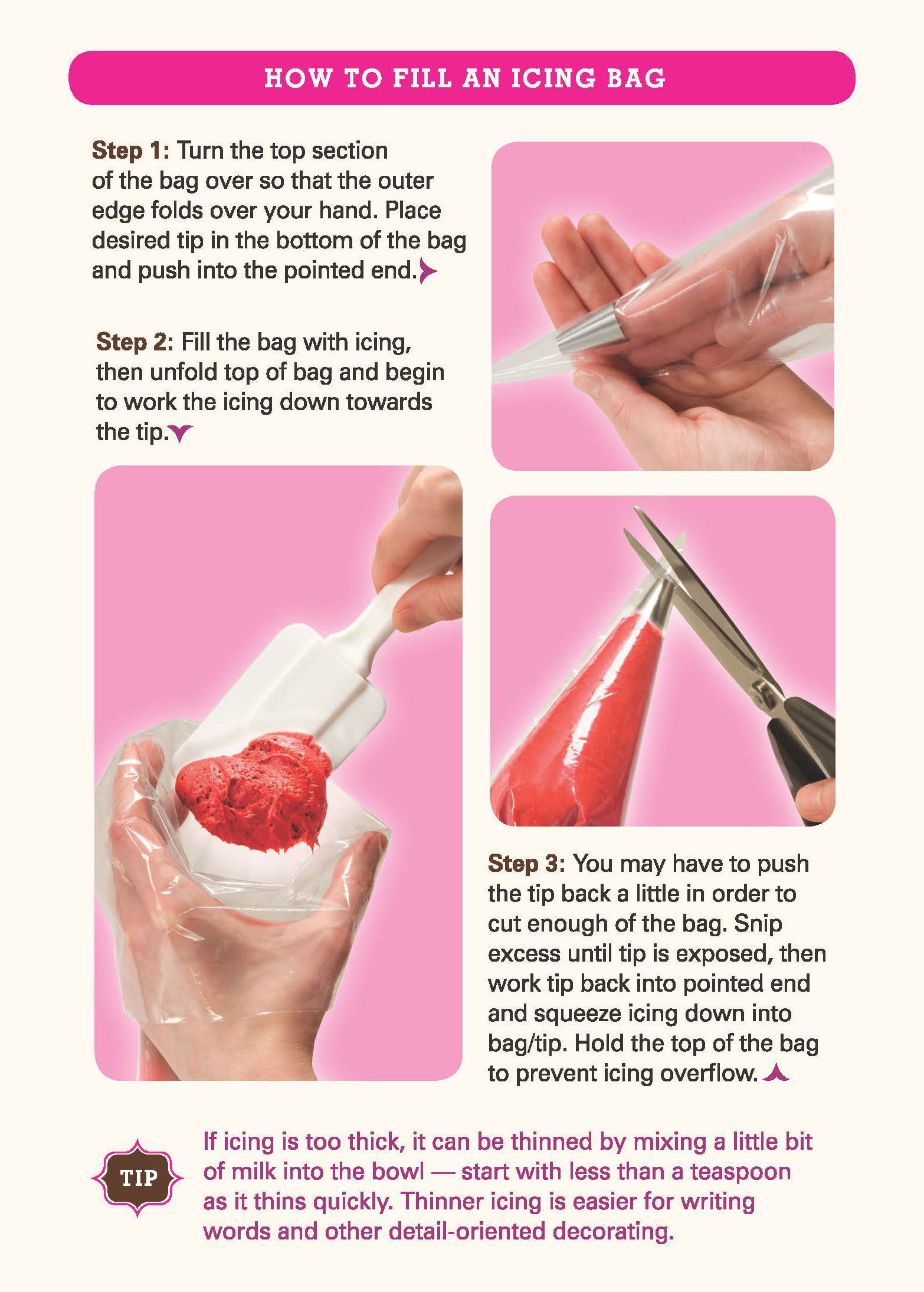 Here we've used a tall cup to hold the icing bag, allowing the other hand to be free. The foldover technique, whether held in your hand or using the cup, helps keep the top of the bag from getting messy.
Choose the right tip