Waffles are one of my favorite breakfast & brunch foods. They are easy to stack, top, and customize. While I didn't think there was anything I could crave more than red velvet waffles topped with cream cheese icing (yes, that's an acceptable breakfast), I was wrong. Introducing the tater tot waffle. That's right, a waffle completely made of tater tots. Did I just hear your jaw hit the floor?
Tater tot waffles are incredibly easy to make and so tasty. All you need is a bag of your favorite frozen tater tots and a waffle maker.
Let the tater tots thaw in the fridge or microwave them for a few minutes for a quick fix. We loaded a paper plate with a single layer of tots which was just the right amount to fill the waffle maker. If you don't want to use a plate for reference, just fill the waffle maker grid with a single layer of tater tots (you can put them all the way to the edge, they won't overflow like batter would when you close the waffle maker).
Lower the top of the waffle maker and cook for 10 minutes until the tator tot waffle is browned and crispy.
The Test Kitchen topped theirs with a fried egg (egg yolk and crispy tater tots are a match made in brunch heaven), but the taste panel decided there's not much that wouldn't be delicious atop this waffle. Shredded buffalo chicken? Absolutely. You favorite chili and a heaping helping of cheese? No doubt. Whether you are taking your at-home brunch menu to the next level or incorporating it into your weeknight dinner routine, you'll find the family and friends requesting it time and time again.
Tater Tot Waffles
Ingredients
40 tater tots, thawed
Fried eggs
Chopped chives
Sour cream
Sriracha
Instructions
Heat the waffle maker on highest setting.
Arrange tater tots on waffle grid, completely filling grid.
Close waffle maker and cook 10 minutes or until browned and crisp.
Top with favorite toppings.
Notes
Serves 1-4
Tater tots need to be completely thawed in order to press into the waffle grid. They can be defrosted in the microwave oven. For 40 tater tots, arrange in a single layer on a microwave-safe plate and microwave on HIGH for 1 to 2 minutes.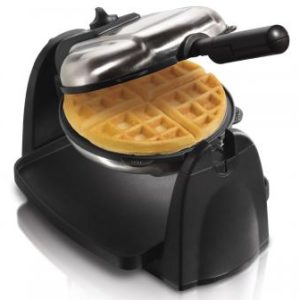 The Belgian Style Flip Waffle Maker makes a delicious, professional-style, 7-inch waffle.